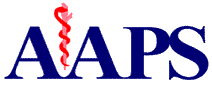 1601 N. Tucson Blvd. Suite 9
Tucson, AZ 85716-3450
Phone: (800) 635-1196
Hotline: (800) 419-4777

Association of American Physicians and Surgeons, Inc.
A Voice for Private Physicians Since 1943
Omnia pro aegroto
We are responding to your inquiries about becoming a non-covered entity under HIPAA.
What your hospital won't tell you about HIPAA... Be sure to read the answers to doctors' most frequently asked questions about HIPAA.
ESCAPE HIPAA "ADMINISTRATIVE SIMPLIFICATION"
Before you file that form for an extension for compliance with the electronic transaction code set standard....

And before you commit tens of thousands of dollars for new computers, seminars, and compliance materials....Stop HIPAA dead in its tracks!

You can be a NONCOVERED entity - unless you voluntarily relinquish that status

Despite what you may have been told by the lawyers during hospital "briefings," doctors are NOT required to file electronic claims, nor file a HIPAA compliance plan.

Even HHS admits there's an escape route. In its Motion to Dismiss the AAPS lawsuit against the privacy rule, the Department of HHS wrote:
"It bears repeating that the Privacy Rule applies only to covered entities. The proverbial country doctor who deals only in paper, or who has a computer but conducts none of the transactions referred to in section 1173(a )electronically, would not be a covered entity and would not be subject to this legislation."
THE "COUNTRY DOCTOR" ESCAPE ROUTE
YOU ARE A COVERED ENTITY IF YOU DO ANY OF THE FOLLOWING:
You transmit any protected health information electronically after April 14, 2003.
You sign an agreement agreeing to be a covered entity.
You sign a certification stating that you are a covered entity.
YOU MUST MEET ALL OF THE FOLLOWING CONDITIONS TO BE A NONCOVERED ENTITY:
No "protected health information" is transmitted electronically outside your office.
The records in your office may all be paper; or you may keep them in a computer. It is the electronic transmission that makes you a covered entity.
You file no claims via electronic transmittal, nor do you engage a billing service or clearinghouse to file claims on your behalf- including private and Medicare claims.
You have not volunteered to become a covered entity by contract or certification.
PROTECT YOURSELF AND YOUR PATIENTS
Protect your patients from having their data entered into a nationwide computer data base.
Protect yourself from costly but impossible efforts to comply and from enormous potential fines ($250,000 or more) or even imprisonment.
Keep the practice of medicine from being destroyed by forcing it into a rigid, irrational, inaccurate straitjacket of 200,000 government codes.
Other Links: