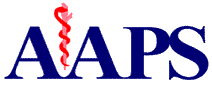 1601 N. Tucson Blvd. Suite 9
Tucson, AZ 85716-3450
Phone: (800) 635-1196
Hotline: (800) 419-4777

Association of American Physicians and Surgeons, Inc.
A Voice for Private Physicians Since 1943
Omnia pro aegroto
Contact:
Kathryn Serkes
202.333.3855
[email protected]

9/25/2002 FOR IMMEDIATE RELEASE:
AAPS: FEDS' SMALLPOX PLANS FATALLY FLAWED
CDC in Deep Denial, 5-step Defense Plan Released
Could lead to thousands of preventable deaths
Local officials need aggressive game plan - don't wait for feds
Doctors propose 5-step plan including advance voluntary immunizations
Washington -- The federal plan to withhold smallpox vaccine until after an outbreak is woefully inadequate, and would most likely lead to chaos and thousands of preventable deaths, according to a prominent physician organization.
Today the Association of American Physicians and Surgeons released a five-prong defense plan calling for voluntary advance immunizations, and warned local officials to develop an aggressive strategy to stockpile medical supplies, monitor public places and refine reporting and deployment systems.
"The CDC must be in deep denial," said Jane M. Orient, MD, Executive Director of AAPS as well as Doctors for Disaster Preparedness. "They may have elaborate paper plans to provide for parking and bathroom facilities at mass immunization sites. But these plans will be too little, too late, even if they don't collapse completely in a crisis. Thousands will die."
Five steps that need to be taken immediately are:
Make immunizations available, with full disclosure and informed consent, to those who want them. Medical workers, frequent travelers, or people who work in crowded areas or high-rise buildings are among those at risk of early exposure.

Install high-tech devices, such as electronic noses, in public places such as airports and subways to detect signs of immune system activation in people who are exposed but not yet sick.

Allocate $20 million for development and clinical trials of promising antiviral agents.

Stockpile antivirals now being used to treat AIDS complications and approve emergency off-label use in the event of a smallpox outbreak.

Disperse vaccines, drugs, supplies, and laboratory equipment to local authorities. Total reliance on a centralized system could be disastrous.
The CDC says the vaccine is too dangerous for the general public. "This is a red herring. Children are routinely required to take vaccines against diseases much less serious than smallpox despite comparable side effects," said Dr. Orient.
Dr. Orient calls the government "two-faced" about vaccine reactions, adding that with voluntary vaccines before a crisis, it is much easier to screen out those who are at high risk of complications, and get them to people who are more likely to be exposed. Also, people who have been inoculated should have as little contact as possible with those especially vulnerable to infection. That would be impossible during a crisis.
"The CDC plan is overly optimistic. Their 'ring immunization' plan is outdated in an age of bio-terrorism," said Dr. Orient.
In the days when "ring immunization" was effectively used, an outbreak consisted of a few cases in a population that had a high degree of immunity to begin with. Today, the entire U.S. population is susceptible. And an attack could cause thousands of simultaneous cases in many different areas. "Hit a couple of airports and the plan is useless."
AAPS has been very vocal in its opposition to mandatory vaccines. "We don't make these recommendations lightly," Dr. Orient said. "Voluntarily screen and vaccinate now. The alternative is mandatory immunizations and mass exposure later," she concluded.
AAPS is a non-partisan professional association of physicians in all specialties, dedicated since 1943 to the protection of the patient-physician relationship. Dr. Orient, a board-certified internist, is Clinical Lecturer at the University of Arizona College of Medicine.
LINKS:
ADDITIONAL NOTES FROM DR. ORIENT:
FATAL FLAWS IN CDC PLAN
According to the CDC fact sheet on "Smallpox vaccination Clinic Guide," 9/23/02, smallpox vaccine will be distributed from national stockpiles to state field sites within 5 - 7 days. -- BUT ONLY AFTER A CONFIRMED OUTBREAK. It could take days to confirm an outbreak.
Add to that the 10 days the CDC says will be necessary to administer 1 million doses (if all goes well.) Massive outbreaks in several population centers could mean a delay of up to a month to receive the vaccine, well after the window of opportunity to use the vaccine as a palliative.
METHODS OF DETECTION
It is vital to detect such a "nonevent" as quickly as possible so that medicines or quarantine can be deployed efficiently. One method is a smoke-detector-like device to sense nitric oxide in exhaled breath. Levels increase when the immune system is activated, before the person notices any symptoms. These could be placed near drinking fountains or pay phones or in places where people are crowded together as in subways, buses, and elevators.
SAFE ROOMS AT HOME AND WORK
People inside buildings could be protected against a biological attack by installing HEPA filters in the ventilation system and maintaining a positive pressure inside the building. The cost to protect an office building could come to tens of dollars per person per year. If an attack is detected, low-tech Israeli "sealed room" technology could protect people in their homes.
RISK FACTORS
Smallpox is lethal in about 30% of cases. Some types have a 90% fatality ratio. It is spread through close person-to-person contact and sometimes from contaminated linens or clothing. Infected persons are contagious from the time when the rash first appears until the scabs fall off.
PROTECTION NEEDED FOLLOWING VACCINATION
The vaccine is a live virus called vaccinia, which can, in vulnerable people, cause an extensive rash, blindness, swelling of the brain, and even death. This virus can be transmitted by persons who have just been vaccinated. Thus, precautions are needed for about two weeks.
TRANSMISSION BY NEWLY IMMUNIZED MEDICAL PERSONNEL
Medical personnel are being vaccinated in Israel. They cannot all be vaccinated at once because they cannot come in contact with patients, especially immunodeficient patients, while they are contagious.
IMMUNIZED VOLUNTEERS NEEDED TO PRODUCE MEDICINES FOR OTHERS
For patients who can't be actively immunized, either because they are already sick or because their immune system is damaged, passive or borrowed immunity can be life-saving. Vaccinia immune globulin or VIG is the treatment for severe vaccine reactions and could help in smallpox also. This is in very short supply. To make more, we need blood donors who have developed immunity. This is another reason for immunizing volunteers before an outbreak.
USE OF ANTIVIRALS
There is evidence that cidofovir (Vistide), used in some complications of AIDS, may be effective against smallpox. But the drug is quite toxic. Further research into promising antivirals is urgently needed.
HOW MUCH SMALLPOX VIRUS EXISTS?
While the CDC admits that "stores of smallpox virus may exist in laboratories other than the two WHO designated repositories," the fact is that smallpox virus has been manufactured by the ton - in a form suitable for use as a biological weapon, the "poor man's atomic bomb." An attack might be unrecognized until thousands become ill and die two weeks later.