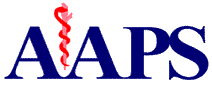 1601 N. Tucson Blvd. Suite 9
Tucson, AZ 85716-3450
Phone: (800) 635-1196
Hotline: (800) 419-4777

Association of American Physicians and Surgeons, Inc.
A Voice for Private Physicians Since 1943
Omnia pro aegroto
Dec. 6, 2000
FOR IMMEDIATE RELEASE:
CONTACT: Kathryn Serkes (202) 333-3855
DOCTORS ADVISE HOW TO AVOID HOLIDAY AIRLINE RAGE
As holiday travel promises increasing delays and frustration for passengers, the Association of American Physicians and Surgeons (AAPS) has issued practical recommendations to minimize the physical and emotional cost of airline travel.
"Turning Airline Rage Into Sage Is Good for Your Health" is the title of a new paper posted by AAPS on its website (www.aapsonline.org) The paper is written by two physicians who, in addition to their medical credentials, have the unfortunate experience of frequent airline travel.
Their practical, medical advice on topics crucial to air travellers include: how to lower blood pressure during travel, what to do about contact lenses, how to reduce physical dehydration and stress, what to eat, drink and wear, and how to avoid jet lag.
The authors promise: "By incorporating these recommendations into your travel plans, you will reduce stress, elevated blood pressure, that ulcer flaring, increased insulin requirements or that call to your therapist. At the least, you may avoid becoming a blithering idiot in the airport."
The full text of "Turning Airline 'Rage' into 'Sage' is posted here
For more information or to arrange an interview with the authors, please contact Kathryn Serkes (202) 333-3855.