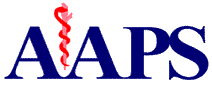 1601 N. Tucson Blvd. Suite 9
Tucson, AZ 85716-3450
Phone: (800) 635-1196
Hotline: (800) 419-4777

Association of American Physicians and Surgeons, Inc.
A Voice for Private Physicians Since 1943
Omnia pro aegroto
11/20/2002 - Note: The Homeland Security Bill has been passed by the Senate. Our original action alert about the bill is posted below.
Homeland Security Bill Moves to Senate
------------------------------------------------------------------------------------------------
--Concerns about bill multiplying as details are revealed
--Senators express concern about lack of debate
--"Politics is the mother of bureaucracy" – Sen. Byrd
--Tell Senators to wait for debate and pass the bill in sunshine
-------------------------------------------------------------------------------------------------
"HR 5710 gives the federal government new powers and increases federal expenditures, completely contradicting what members were told about the bill. Furthermore, these new power grabs are being rushed through Congress without giving members the ability to debate, or even properly study, this proposal. I must oppose this bill and urge my colleagues to do the same."
---Rep. Ron Paul, M.D. AAPS member on the floor of the House 11/13/02
Read Entire Statement
CONCERNS ABOUT BILL MULTIPLYING
Wednesday night the House passed H.R. 5710, the Homeland Security Bill. The Senate is now debating it, and a vote is expected within days – possibly as early as Friday.
Now that details of the House version are being made public, we've heard from a number of individuals and organizations about their concerns about several provisions of this bill in addition to ours about smallpox countermeasures.
Problems with the bill included centralized database provisions, airport security, unchecked power to cabinet officials, extent of the new bureaucracy, concentration of power in the executive branch, suspension of the rule that prohibits secret advisory committee meetings, limited public access to information, and failure to address border security and immigration issues, such as tracking foreign students.
The bottom line is that there are big problems with this bill. But the biggest problem may be that almost no one has read the entire 484-page bill. The brand new legislation was dumped in Congress on Wednesday (with many new provisions) and fast-tracked through the House in less than 24 hours. Rules were used to limit debate and amendments.
SENATORS EXPRESS CONCERN ABOUT LACK OF DEBATE
We'd like to tell you what the Senate bill says about the smallpox countermeasures and the powers to be granted to the HHS Secretary – but there is no copy available to the public. (We finagled the House version on Wednesday from the Rules Committee.) Staff members tell us that it is the same as the House version, but without a document in hand, we can't comment on the specifics.
At this point we agree with Sen. Byrd who said on Thursday "We're making a huge mistake passing the bill at this time…there has not been a single hearing." He expressed his concerns about the way the bill was being pushed through Congress with little debate or discussion, adding, "If necessity is the mother of invention, then politics is the mother of bureaucracy."
DELAY VOTE FOR HONEST DEBATE
Please tell your Senators to vote NO on the Homeland Security Bill. Instead, let's wait for a workable bill that also protects our liberties. One that's debated and passed in the light of sunshine.
Contact your Senator
Contact the White House: [email protected]
Read the House Bill
Other Links