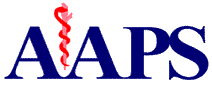 1601 N. Tucson Blvd. Suite 9
Tucson, AZ 85716-3450
Phone: (800) 635-1196
Hotline: (800) 419-4777

Association of American Physicians and Surgeons, Inc.
A Voice for Private Physicians Since 1943
Omnia pro aegroto
Contact: Kathryn Serkes, 202-333-3855
Association of American Physicians and Surgeons
e-mail: [email protected]
August 30, 2001
FOR IMMEDIATE RELEASE:
CONGRESSMAN JOINS DOCTORS IN PRIVACY LAWSUIT FILED TODAY
HOUSTON -- Rep. Ron E. Paul (R-TX) joined the Association of American Physicians and Surgeons (AAPS) as a plaintiff in a lawsuit filed today in Houston against HHS and Secretary Tommy Thompson to overturn new federal medical privacy regulations as unconstitutional.
"Far from protecting privacy, these rules give government officials and certain private interests a new federal right to access medical records without consent," said Rep. Paul, who is also a physician. "AAPS deserves the gratitude of every American for fighting to stop these regulations and I am pleased to support their efforts."
The lawsuit claims that the regulations, written under the Health Insurance Portability and Accountability Act of 1996 (HIPAA), are illegal since they violate the First, Fourth and Tenth Amendments, as well as the Paperwork Reduction and Regulatory Flexibility Acts. Further, HHS failed to promulgate the final regulations within the time period specified under HIPAA. The lawsuit seeks declaratory judgments that the regulations (see link to copy of the complaint at the bottom of this page):
Violate the Fourth Amendment by requiring physicians to allow government access to personal medical records without a warrant or patient consent... and authorizing the government construction of a centralized database of personal medical records with personal health identifiers;

Violate the First Amendment to the extent they chill patient-physician communications by requiring them to be subject to warrantless review by government;

Violate the Tenth Amendment to the extent they govern purely intrastate activities by physicians in using and maintaining medical records for patients;

Violate HIPAA and lack statutory authorization to the extent they regulate medical records other than electronic transmissions, were not promulgated within the time period expressly required by Congress, and increase administrative costs;

Violate the Paperwork Reduction Act and the Regulatory Flexibility Act to the extent they impose an immense and unjustified regulatory burden on small medical practices.
The complaint also outlines how the Regulations conflict with a number of state constitutions, such as California and Florida, that grant a specific right to privacy.
The most heavy-handed aspect of the new federal rules is the unprecedented government access to everyone's private medical records. While masquerading as patient protection, the rules would actually eliminate any last shred of patient confidentiality. "[The Regulations]...allow government virtually unrestricted access to those same records without a warrant," states the complaint.
When it comes to government prying, these rules obliterate any remote notion of patients' rights. Doctors are required to disclose all patients records to thousands of federal bureaucrats -- with or without consent, including handwritten notes and psychiatric records. "...consent forms [are] provided to patients as a condition for treatment...[therefore] such consent is coercive and cannot constitute a valid waiver of Fourth Amendment rights."
Law enforcement agencies will have unrestricted access to all records -- including notes about drug use, family interactions and other confessions. But it gets even worse. Not only can doctors be fined or imprisoned (up to $50,000 and one year) for withholding records, patients can be denied treatment if they refuse to sign the consent form. "Plaintiff AAPS has patient members who are already reluctant to provide information to their physicians due to the broad access to such information provided by the Privacy Regulations to the government."
Jane M. Orient, MD, AAPS Executive Director, explained the need to resort to litigation:
"We've tried everything else. We've appealed to Congress, we've testified at HHS, we've generated tens of thousands of public comments and frozen up the HHS e-mail server with public response. None of it has done any good.
"We had nothing left to do short of leaving our patients to the mercy of government spies or resorting to civil disobedience by refusing to violate our ethical code and our patients privacy, or file a lawsuit. We choose to work through the courts.
"Patients are withholding information, and doctors are lying because of privacy concerns. [See "Poll: Doctors Lie to Protect Patient Privacy" 7/31/01 www.aapsonline.org] The obvious conclusion is that these rules will only exacerbate the situation to the point of distorted, incomplete and potentially dangerous medical records becoming the norm. Physicians' ethics will be further challenged if they're forced to choose government compliance or lying for a patient.
"It's a Hobson's choice -- practice the government way or quit. We decided we had to fight for our patients."
AAPS is a non-partisan association of physicians in all specialties dedicated since 1943 to protect the sanctity of the patient-physician relationship from third-party intrusion. AAPS is one of the largest physician organizations that is solely member funded, and accepts no government grants or contracts.
####
Contribute to the Legal Fund
Other Links: