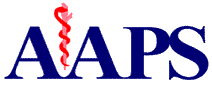 1601 N. Tucson Blvd. Suite 9
Tucson, AZ 85716-3450
Phone: (800) 635-1196
Hotline: (800) 419-4777

Association of American Physicians and Surgeons, Inc.
A Voice for Private Physicians Since 1943
Omnia pro aegroto
Dr. William Hurwitz - Information on Attending Trial
Dr. Bill Hurwitz's trial for treating chronic pain begins on November 3rd, 2004 at the Federal Courthouse in Alexandria, Virginia. We thank and agree with another victim of overzealous pain prosecution for the following:
Please attend, not only for Dr. Hurwitz's benefit, but supporters may have an impact on the DEA in favor of adequate pain treatment. Certainly a commitment for the whole trial is not expected. But half a day or even 10 minutes could make a big difference. Please pass this along.
Pretrial motions yesterday went very much in Dr. Hurwitz' favor. The judge ruled that the recently yanked DEA FAQs can be employed by the defense. He also ruled to keep out previous entanglements with the Virginia Medical Board.
CLICK HERE FOR DIRECTIONS AND OTHER INFORMATION ABOUT THE COURT HOUSE