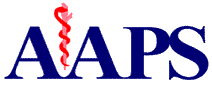 1601 N. Tucson Blvd. Suite 9
Tucson, AZ 85716-3450
Phone: (800) 635-1196
Hotline: (800) 419-4777

Association of American Physicians and Surgeons, Inc.
A Voice for Private Physicians Since 1943
Omnia pro aegroto
UNITED STATES DISTRICT COURT
FOR THE DISTRICT OF COLUMBIA
ASSOCIATION OF AMERICAN PHYSICIANS
)
AND SURGEONS, INC et al.,
)
)
Plaintiffs,
)
)
)
v.
)
Civil Action No. 93-0399 (RCL)
)
HILLARY RODHAM CLINTON, et al.,
)
Defendants.
ORDER
For the reasons set forth in an accompanying Memorandum Opinion, plaintiffs' motion for attorney's fees, costs, and sanctions against defendants is hereby GRANTED.
Defendants shall pay to the Association of American Physicians and Surgeons, Inc., the sum of $285,864.78.
SO ORDERED.
Royce C. Lamberth
United States District Judge
Date: 12/18/97