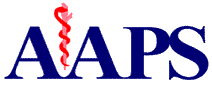 1601 N. Tucson Blvd. Suite 9
Tucson, AZ 85716-3450
Phone: (800) 635-1196
Hotline: (800) 419-4777

Association of American Physicians and Surgeons, Inc.
A Voice for Private Physicians Since 1943
Omnia pro aegroto
Association of American Physicians & Surgeons
The Voice for Private Physicians Since 1943
Legislative news &
Washington
D.C.
update
------------------------------------------------------------------------------------------
1. Medical liability passes House
2. Abortion non-discrimination moves to Senate – Action needed!
3. Vaccine liability bills still need public action
4. AAPS helps stall pediatric drug rule – Action needed!
5. Other Washington news--
------------------------------------------------------------------------------------------
1. Medical liability bill passes House
On Sept. 26, the House of Representatives passed H.R. 4600, the "Help Efficient, Accessible, Low Cost, Timely Health Care (HEALTH) Act of 2002. The bill now moves to the Senate.

The vote was along party lines, with 14 Democrats supporting.

(Bill summary, text and voting:

http://thomas.loc.gov/cgi-bin/bdquery/z?d107:h.r.04600:
This is good news and bad news.

The good news is that lawmakers are finally paying attention to the devastating effects of policy on litigation, medical liability premiums and availability.

The bad news is that it does not address the root causes, and may exceed federal authority.
In the words of Congressman Ron Paul, M.D., (a lifetime AAPS member) on the floor of the House:
"…while I support the efforts of the sponsors of HR 4600 to address the crisis in health care caused by
excessive malpractice litigation and insurance premiums, I cannot support this bill. HR 4600 exceeds
Congress' constitutional limitations and denies full compensation to those harmed by the unintentional
effects of federal vaccine mandates. Instead of furthering unconstitutional authority, my colleagues should
focus on addressing the root causes of the malpractice crisis by supporting efforts to restore the primacy
of contract to the doctor-patient relationships."
2. Abortion non-discrimination bill passes House
Last week the House passed H.R. 4691, the Abortion Non-Discrimination Act (ANDA) by a vote of 229 to 189, largely along party lines, with the Republicans supporting.

It now moves to the Senate as S. 2008 sponsored by Sen. Judd Gregg.

Michael Bilirakis
H.R. 4691 clarifies the scope of a nondiscrimination statute (42 USC §238n) that Congress overwhelmingly approved in 1996. The current law protects "health care entities," including medical residency programs, from being forced by government bodies to provide abortions or abortion training. The new bill makes it clear that this protection extends to the full range of health care entities, including hospitals and individual health professionals. It also applies this protection to entities being told they must pay for abortions against their will.

This does not place any restrictions on abortions, instead allowing individual physicians and others to follow their own consciences.
Please thank your member for a yes vote, and urge your Senators to do the same.
To read the HOUSE bill summary, text and how your representative voted, see:
To read the SENATE version:
3. Vaccine liability bill still needs public action
Last week we sent you an alert about two bills pertaining to vaccines.

The first, S. 2053 sponsored by Sen. Frist (R-TN) and

would create new hurdles for the vaccine-injured.

(The House version is H.R. 5282)
The second is House bill H.R. 3741 sponsored by Reps. Dan Burton (R-IN) and Henry Waxman (D-CA).
We urged that you help defeat the Frist bill and its House version, and support the Burton/Waxman bill.

There has been no movement on either on the calendar, but please keep up your efforts.
4. AAPS helps stall pediatric drug rule
Attempts at political maneuvering could get a controversial bill on the Senate calendar, but so far we have been able to stall it.

Last week, we sent a letter to Sen. Rick Santorum to urge him to keep it off the calendar.

So far so good.
The bill, S. 2394 would require pediatric testing for all new drugs.

Supporters of the bill have tried to portray AAPS and others who oppose it as impeding delivery of drugs to children.
But AAPS opposes this bill because it hurts children, instead of helping them.

We cannot support unrestricted clinical pediatric trials.

Also, the legislation would add further delays to the FDA approval process, making new drugs unavailable to the entire population. (Click here to read AAPS letter and analysis of the bill.)
Supporters are trying to sneak this controversial bill onto the "consent calendar" to be approved with a batch of other bills (like post office naming) that will be approved unless someone objects.

ASK YOUR SENATOR TO OBJECT TO "SENATE CALENDAR 547."
Dr. Mark McClellan has been nominated to become FDA commissioner, leaving his position as the president's chief health care policy advisor, where he has been influential in shaping the administration's free-market agenda.

Congressional offices are reporting contact from doctors about problems with the HIPAA regulations, particularly the privacy regs.

PLEASE KEEP UP THE PRESSURE.
We are working on some legislative language that could be instrumental in assuring a right to medical privacy, as well as additional litigation.
Association of American Physicians and Surgeons
1601 N. Tucson Blvd. Suite 9